皆神山は、長野市松代町の東南に位置し、川中島平を一望に収める絶景地である。近年新日本百景の一つに挙げられ、松代群発地震の震源地として世界的に有名になった。形状が円錐形の見事な独立山のため古来より霊山として信仰の対象となり、最近では世界最大最古のピラミッドであるといわれている。標高六七九メートル、山麓の周囲は約八キロ、山頂は中ノ峰・東ノ峰・西ノ峰に分かれている。
LOCATION
Mt.Minakami is located in the South-East of Matsushiro, and gives a superb view to Kawanakajima Plain. Recently it was selected as one of the New Japanese 100 Famous Views, and also became well known to be the center of Matsushiro Earthquake Swarm. Because of its solitary conic shape, it has been worshiped as a sacred mountain from ancient time, and recently is said to be the biggest and oldest pyramid in the world. Mt.Minakami is 679 meters above sea level, with a circumference of about 8 kilometers, the summit of which is divided into the Central Peak, the East Peak, and the West Peak.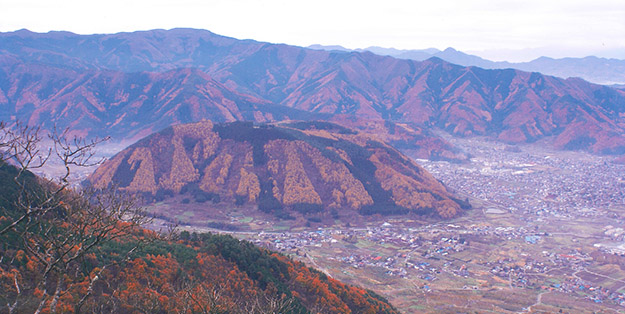 出速雄命(イズハヤオノミコト)、伊邪那岐命(イザナギノミコト)、伊邪那美命(イザナミノミコト)、速玉男命(ハヤタマオノミコト)、豫母都事解男命(ヨモツコトサカノオノミコト)、脇座に舒明天皇(ジョメイテンノウ)・古人大兄皇子(フルヒトオオエノオオジ)
DEDICATED TO
Izuhayao no mikoto, Izanagi no mikoto, Izanami no mikoto, Hayatamao no mikoto, and Yomotsukotosakano-o no mikoto. Jomei tenno and Furuhito-oe no oji, as the secondary enshrined.

奈良時代養老二年(七一八)出速雄神社を奉祀と伝えられる。
中世以降修験道が盛んとなり、熊野権現を勧請、大日如来・阿弥陀如来・弥勒菩薩の三仏を各峰に安置し熊野三社大権現と称した。
境内社の侍従神社に鎮まる侍従大神(ジジュウオオカミ)は、佐久の内山城主内山美濃守満久の三男下野守三郎満顕であり、十三歳にして鞍馬山に入り密教を厳修、その後各霊山を巡り、内山氏滅亡のとき皆神山に入山、大日寺和合院宥賢と称した。後に侍従天狗坊と名乗り、皆神山の修験を完成させた。
弘治二年(一五五六)七月十四日入定、在りし御影を木像に写して侍従坊大天狗明王と祀った。正親町天皇永禄・元亀の間(約四百四十年前)と伝わる。
北は戸隠、南は皆神山と修験道で長いあいだ栄え、先達和合院は皆神山八合目からうえを領し、聖護院(京都・本山派山伏の本山)より川中島四郡(埴科・更級・水内・高井)の年行事職を命ぜられ、更にはほぼ信濃全域の本山派山伏の支配権を得ていた。
明治初期の神仏分離令・廃藩置県により山伏は全部が還俗、一切を上知し和合院も廃するにいたり、出速雄命と熊野の神を熊野出速雄神社、侍従坊は侍従大神と奉斎した。
HISTORY
It is traditionally said that Izuhayao Jinja shrine was set up in 718. After the prosperity of Shugendo*, it was re-named Kumano Sansha Dai-Gongen, with the invitation of the divided spirit of Kumano-Gongen, and the settlement of three Buddha: Dainichi Nyorai, Amida Nyorai, and Miroku Bosatsu in each mountain peak.
Jiju Okami deity, to whom Jiju Jinja shrine is dedicated, is Shimotsuke-no-kami Saburo Mitsuaki: the third son of Uchiyama Mino-no-kami Mitsuhisa, the lord of Uchiyama Castle in Saku. He mastered Mikkyo** when he was thirteen years old in Mt.Kurama, and entered Mt.Minakami in accordance with the fall of Uchiyama family, where he was named Dainichi-ji Wago-in Yuken. Later he called himself Jiju Tengu-bo, and completed the asceticism-shamanism of Mt.Minakami.
He passed away in July 14, 1556, and his wooden statue was worshipped as Jijubo Daitengu Myo-o around 440 years ago.
Shugendo of Mt.Minakami has prospered for a long time, comparable to that of Togakushi in the north. The leaders of Wago-in, who have ruled the peak area of the mountain, has been designated for the Shugendo administrator of four regions of Kawanakajima, and also allowed to control almost all the ascetics of Honzan-ha faction in Nagano.
With the ordinance to distinguish Shinto from Buddhism, and the establishment of prefectures in place of feudal domains in Meiji era, when all the ascetics returned to the secular lives and the name Wago-in was abolished, two shrines were re-established: Kumano Izuhayao Jinja shrine, dedicated to Izuhayao no mikoto and deities in Kumano, and Jiju Jinja shrine to Jijubo.

* Japanese mountain asceticism-shamanism in the Medieval Period
** Esoteric Buddhism